ANTHROPOLOGY AT A GLANCE: AN ONLINE PHOTO EXHIBITION
The images in this exhibition give an impression of the work of several researchers, ranging from a study of post-tsunami lives in Aceh to food production and distribution in Poland and the perspectives and experiences of migrant parents and welfare professionals in European cities.
Anthropology studies the world through its everyday particularities, asking how people weave their everyday lives in various local contexts, often facing complex and daunting circumstances.
At Leiden University, we study how people around the world engage with mounting ecological and economic fragility, and how they deal with increasingly diverse and digitally mediated social worlds.
Researchers at the Institute of Cultural Anthropology and Development Sociology share a focus on issues related to diversity, sustainability and digitalisation. The Institute has a long-standing engagement with Asia and Africa, and boasts a strong expertise in visual anthropology.
LIVING WITH WILDLIFE
SOUTH KENYA (2011) | GERARD PERSOON
Communities living in areas with large carnivores (tigers, lions, hyena's, or leopards) in Asia and Africa often fall victim to these animals by losing livestock or their own lives, which may lead to retaliatory killing of large carnivores. This photograph shows Maasai herders who found a lost cow, eaten by lions, near Amboseli National Park, Kenya.
These human-wildlife conflicts are studied from an interdisciplinary perspective in an effort to reduce these conflicts through compensation methods, awareness programs, removal of 'problem animals', or technical solutions such as wildlife corridors and fencing.
Recent PhD research by Tuqa Jirmo (Kenya), Shepkar Kolipaka (India), Babu Ram Lamichhane (Nepal), and Francis Lesilau (Kenya)
LADIES-ONLY KICKBOXING AMSTERDAM,
THE NETHERLANDS (2010) | JASMIJN RANA
Two women working with 'pads' to improve their punching skills. The photograph was taken in Amsterdam, during a ladies-only amateur kickboxing training session that was part of the fieldwork for my PhDresearch on motivations of Muslim women in the Netherlands to participate in kickboxing and the effects of participation on their notions of self and senses of belonging in society
FOOD PRIDE COOKING LAB
TURIN, ITALY (2019) | MARIA VASILE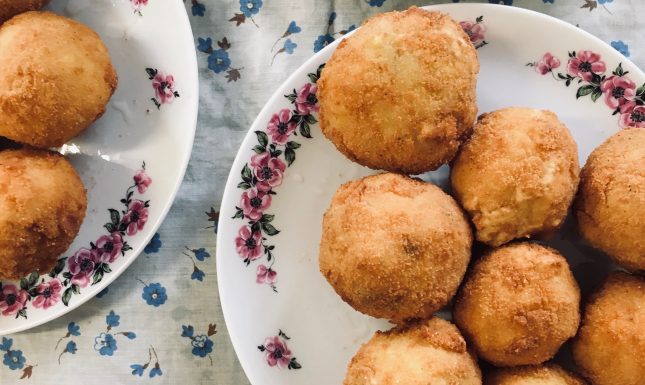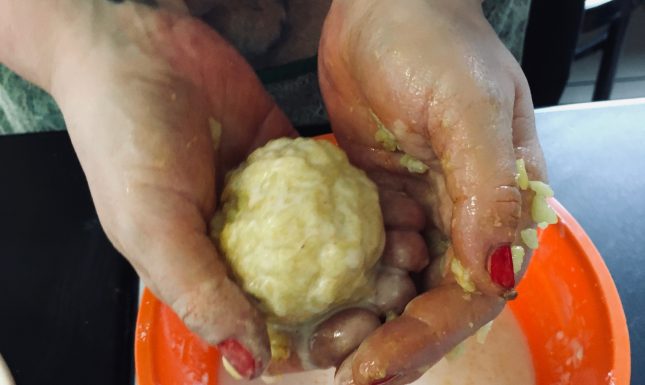 The Turinese network Food PRIDE develops projects on the reuse of unsold food products collected at markets and shops, connecting the issue of food waste to the themes of urban food security and social inclusion. This cooking lab is part of a process of rehabilitation that helps people suffering from mental distress moving towards a more autonomous life.
After several years of receiving direct support from social services or, in some cases, periods of homelessness, participants are relearning how to cook to be able to provide for themselves in the perspective of obtaining social housing, or to provide for the group, as several of them live together in collective temporary accommodations. This collective cooking activity is an opportunity to "get to know one's self-confidence", as explained by one of the participants.
ERC funded research project 'Food citizens? Collective food procurement in European cities: solidarity and diversity, skills and scale'
SMALL-SCALE GOLD MINING (ASGM)
BUSIA, EASTERN REGION UGANDA (2019) | ESTHER VAN DE CAMP
After a mudslide had covered the gold ore at the bottom of their open-cast mine in Busia, Uganda, miners had to remove the soil with spades. In 2016, 60,000 people (about 14% of the population) were involved in alluvial and hard-rock artisanal and small-scale gold mining in Uganda.
In order to spur growth in Uganda's mining sector, the government implemented the Sustainable Management of Mineral Resources Project financed by the World Bank, the Nordic Development Bank, the African Development Bank and the Government of Uganda. One of the goals was the formalisation of artisanal and small-scale mining. Busia United Smallscale Mining Company resulted from one of the first ASGM associations in Uganda.
Research project 'Gold Matters: Sustainability Transformations in Artisanal and Small-scale Gold Mining: A Multi-Actor and Trans-Regional Perspective
A GAME OF KÖK BÖRÜ
BISHKEK, KYRGYZSTAN (2015) | SIMONE DE BOER
The equestrian game kök börü, or ulak tartysh, is known throughout Central Asia, but played most widely in Kyrgyzstan, Kazakhstan and Afghanistan. It is perhaps best described as a mixture between polo and rugby, in which a beheaded goat carcass is used as 'ball'. The aim is to pick up the carcass from the ground and to put it on a designated spot on the playing field, while your opponents violently try to prevent you from doing so.
Under Soviet rule, kök börü became formalised, institutionalised and more closely connected to ideas of the nation; a process that still continues. Today there are roughly two types of kök börü in Kyrgyzstan: individual play and the more recent team play. This photograph shows a team competition in Bishkek hippodrome on Victory Day, the national holiday commemorating the Soviet Union's victory over Nazi Germany in 1945.
LOGGING LABOURER
MALAITA, SOLOMON ISLANDS (2016) | TESSA MINTER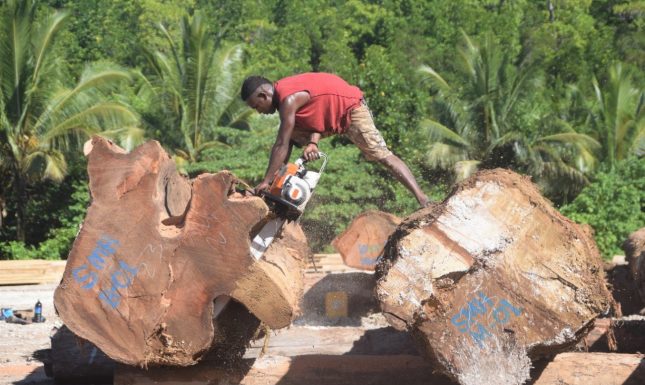 In Solomon Islands, the logging industry has for the past four decades operated on communally owned forest land. Elite members of land-owning clans grant permission to foreign (predominantly Malaysian) logging companies to export commercially valuable hardwoods in exchange for the promise of jobs, roads and shares of the profit.
The man in the photograph is preparing logs for export for one of these companies in Waisisi Bay, West Are'Are, on the island of Malaita. Like most others, he is hired on a casual basis, without safety clothing and without building up a pension. The work is tough and dangerous, and wages are low and unreliable, causing logging labourers to strike frequently.
In this anthropological study of logging, I assess how the benefits and burdens of the timber industry are distributed between state and company, between and within land-owning clans, and between men and women.
FOOD DISTRIBUTION BY FOOD NOT BOMBS
GDAŃSK, POLAND (2019) | OLA GRACJASZ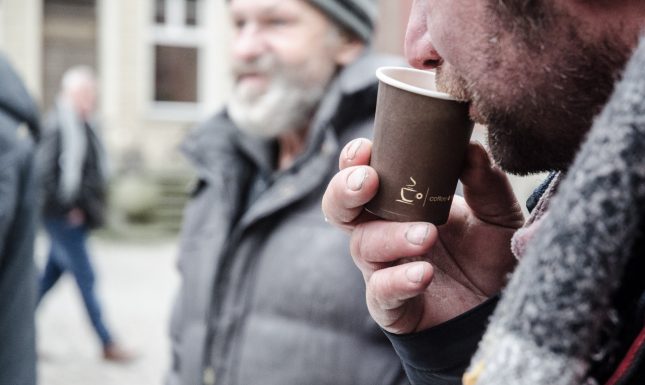 Food Not Bombs is a non-institutionalised, non-funded group with anarchists leanings that saves otherwise wasted food from the food market. Every Sunday in winter FNB members, who are all volunteers, distribute soup made from saved food to those most in need. FNB in Gdańsk has been distributing soup for nearly 20 years and has never missed a Sunday.
Those in need often bring buckets and jars to take some hot soup with them for later. FNB members see their action as political and want to 'expose' the problem of poverty in the city by contrasting it with the bright and shining touristic centre of Gdańsk's old town. In addition to soup, the volunteers regularly bring their 'beneficiaries' warm clothes, boots and sleeping bags.
ERC funded research project 'Food citizens? Collective food procurement in European cities: solidarity and diversity, skills and scale'
FULANI LANDSCAPES 1
PONG TAMALE, GHANA (2018) | MARK WESTMORELAND
Fulani herdsmen are nomadic pastoralists who inhabit the Sahel region in West Africa. Their intimate human-animal knowledge constitutes a vital cultural heritage that enables them to cultivate symbiotic relationships with farmers by offering pastoral care of their cattle in exchange for access to land.
After droughts during the 1970s forced many to move south, their arrival in Ghana has provoked hostility. Around the time of this photograph, some Fulani settlements faced forceful eviction, including the slaughter of 1500 cattle.
As part of a larger participatory project, we made this photo using kite aerial photography with the aim to open new frameworks for rethinking relationships with land resources as a key concern of social and environmental research. As such, the Broken Ground project gestures to both the wounded history of these places as well as the aspirations made possible in these landscapes of extraction.
In collaboration with Sabine Luning, Baba Sumaila Yussif & Fulani of Pong Tamale
SHEEP SHEARING
CATALAN PYRENEES, SPAIN (2017) | FEDERICO DE MUSSO
Sheep shearing is rapidly changing in the Catalan Pyrenees. Once a source of income, wool sales now do not even cover shearing expenses. Shearers travel from farm to farm, lowering fares trying to resist yet another year. Sheep breeders hire them out of past personal relations, but the downtrend price competition threatens to severe those bonds.
As wool price drops, shearing is performed only out of care for the sheep: to prevent overheating. However, for the sheep this is a traumatic experience. The heated and rank atmosphere of the shearing materialises the shearers, breeders, and sheep's troubled and violent interdependence.
URBAN GARDENING
ROTTERDAM, THE NETHERLANDS (2019) | VINCENT WALSTRA
An urban gardener is working in the Vredestuin ('peace garden'), a garden near Hofplein in the center of Rotterdam. Due to its location, the garden draws a lot of attention from passersby. One of the volunteers calls it a 'demonstration garden'. The green space and social activities of the garden contrast with the typical urban landscape of concrete office buildings, train tracks and car roads (behind camera position). Because agriculture is something that does not belong in the urban center, it is 'demonstrative'; as if it is constantly protesting to its surroundings.
ERC funded research project 'Food citizens? Collective food procurement in European cities: solidarity and diversity, skills and scale'
THE FEAST OF SACRIFICE
BANDA ACEH, INDONESIA (2013) | ANNEMARIE SAMUELS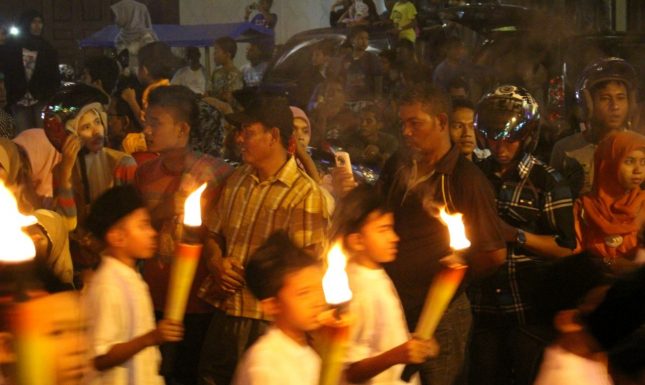 The Feast of Sacrifice (Eid al-Adha or Idul Adha) is one of the two most important Islamic holidays, celebrated by Muslims around the world.
Picture 1: On the morning of the Feast of Sacrifice, thousands of people gather on the large public field of Banda Aceh for the collective morning prayer.
Picture 2: The night before the Feast of Sacrifice in Banda Aceh, groups of young men walk in a parade with decorated vehicles while chanting the Takbir (the Arabic phrase Allāhu akbar) and sounding the drums. They are watched by crowds of cheerful women, men and children.
MY YOUNG GRANDPARENTS
SADOLPARA, MEGHALAYA STATE, INDIA (2019) | ERIK DE MAAKER
Chekjak swipes through the pictures on my phone. Her husband Pongjan watches, as do grandchildren and neighbours. Chekjak, probably in her early forties, is my mother-grandmother, and Pongjan my fathergrandfather. Some twenty years ago, I became an adoptive son to the mother of Chekjak. She became my mother-grandmother. When her mother died, in 2015, Chekjak inherited the roles, responsibilities and property of her mother.
In engaging with their lives, and those of many others of the same region, I have become aware of local knowledge that has been carried over across generations, and the challenges and opportunities which development, climate change and the consolidation of the post-colonial state pose to people who in statistics invariably end up as the rural poor.
AMT funded research project 'Postcolonial Displacements: Migration, Narratives and Place-Making in South Asia
Photos by Bart Boeijen & Jean- Robert Dantou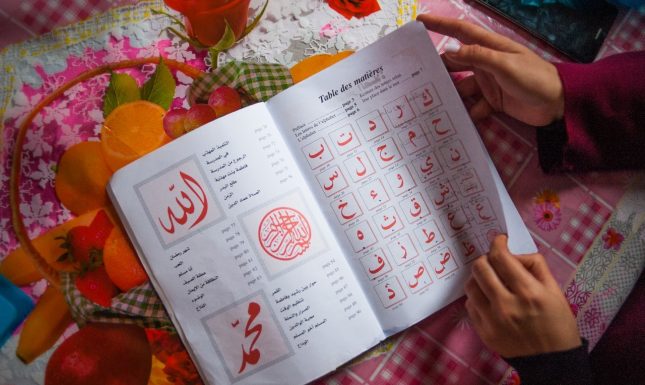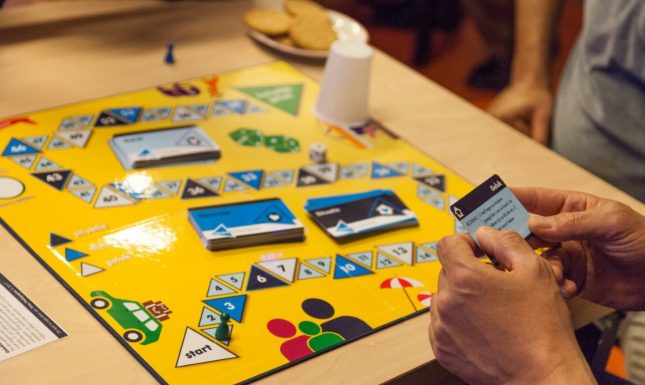 These images give an impression of the ERC-funded project 'Reproducing Europe' (2015-2020) led by Anouk de Koning, which examined encounters between Egyptian migrant parents and welfare professionals and volunteers working in Milan, Paris and Amsterdam. PhD researchers Lucrezia Botton, Soukaina Chakkour and Wiebe Ruijtenberg explored the experiences and perspectives of Egyptian migrant parents, while senior researchers Milena Marchesi, Anick Vollebergh and Anouk de Koning investigated professional practices. Taken together, these projects show how citizenship and belonging are negotiated in the context of welfare provision.
Picture 1: an Egyptian father in Amsterdam with his young son (Bart Boeijen);
Picture 2: a French-Arabic textbook illustrates the different registers that migrant families have to master (Jean-Robert Dantou).
Picture 3: the Domestic Happiness board game developed by Trias Pedagogica and played by Egyptian fathers during their weekly meeting at an Egyptian association in Amsterdam (Bart Boeijen).

Picture 4: Amsterdam youth care workers in their office (Bart Boeijen).