Risky Business: Crop Insurance in Rural India
In central India, agriculture is a risky business. As climate change has altered weather patterns and monsoon rains are becoming increasingly unpredictable, a new crop insurance policy promises to use financial management to control the extremes of nature.
A new crop insurance scheme
Early in 2016 the Indian Government, with much fanfare, announced a new crop insurance scheme meant to alleviate the growing risks of agriculture and cure the social 'ailments' that purportedly afflict the Indian countryside. It has since become a major political talking-point as well as a significant business, with companies reporting large profits and the government pledging major financial support. The insurance policy covers farmers against misfortune related to farming, such as drought, hailstorms, and pests.
Since its introduction, crop insurance has both been heralded by the Modi government as the panacea for the woes of farmers and denounced for being a populist measure which does little to deal with the root causes of rural distress. How does the introduction of crop insurance influence existing relationships and bring about new ones? What happens when the assumptions about farming inherent to this new insurance product encounter the tenacious reality of agriculture in a drought-prone area?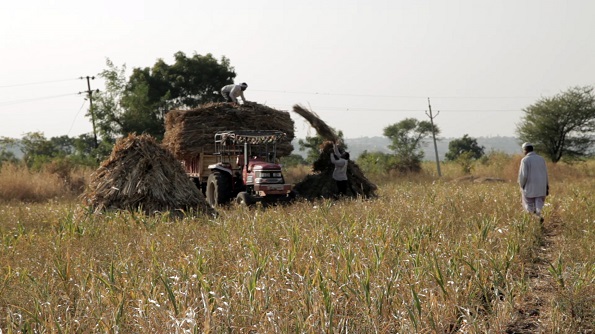 Farmers in rural Maharashtra during the harvest season (photo by Brechtje Boeke).
A risky business
Filmmaker Brechtje Boeke and researcher Tim van de Meerendonk set out to explore some of these questions in December of 2017, to document Tim's ongoing fieldwork in a small town in rural Maharashtra. We met and spoke to people from various sides of the crop insurance story: a financial consultant, farmers, government officials and village leaders told us about their experiences with the product. The outcome of these conversations, a short documentary, examines what happens when this new crop insurance 'hits the ground'.
What emerges are narratives of distance and arbitrariness. The workings of crop insurance, we find, are experienced as non-transparent and complex. Experts comment that farmers fail to understand the significance, rationale, and procedure of these products, while the intended beneficiaries complain that damage calculations bear little resemblance to the actual damage they experience. Insurance is often explained as something akin to a lottery: an all-or-nothing game with very serious consequences.
How do people frame the arbitrary outcomes they experience? Where do they place the responsibility when something goes wrong? What happens when farmers attempt to challenge the insurance companies? The documentary highlights the challenges and potential of this financial instrument to bring the extremes of nature under control and, in the process, reflects on the place of finance in the lives of farmers in India.
Enjoy!
This documentary is part of the ongoing ethnographic fieldwork by Tim van de Meerendonk on crop insurances in rural Maharashtra, India. The research is part of the Moralising Misfortune project, principal investigator Erik Bähre, funded by the European Research Council (ERC) under the Horizon 2020 Research and Innovation Programme (Grant Agreement No. 682467).