My home is my (Airbnb) castle?
In Amsterdam there are over 10,500 Airbnb addresses. 'The easiest way for people to monetise their extra space and showcase it to an audience of millions.' Why does this 'monetise your extra space' resonate so well? And what about the neighbours?
My mother has new neighbours every week. They live in the flat opposite her. She knows exactly what they pay per week, even per night. She has never been inside the flat, but it looks great in the pictures: newly built and tastefully decorated. Every Thursday there is the same ritual: the balcony doors open, two or three people come out onto the balcony, look right, take a picture, look left, take another picture. The people staying there are enthusiastic: 'We had a great time at Scott's apartment and we would recommend it to anybody looking for a modern and quiet stay in Amsterdam!' Or 'The apartment is very comfortable...located in the heart of the city. And also reasonably priced.'
'A world of belonging'
Airbnb is a subject of several discussions. There is a question about what Airbnb actually is. Some suggest that Airbnb is part of a new economy, the so-called 'sharing' economy. Instead of buying new consumer goods, we share what we already have, but do not need. Others argue that the word 'sharing' is misleading and that Airbnb is simply a rental intermediary, and that it should be taxed and regulated as such. Next to this, there are websites like Insideairbnb.com, that through collecting statistical data aim to show how Airbnb affects the housing supply and affordability in cities like New York and reveal 'The data Airbnb doesn't want you to see!'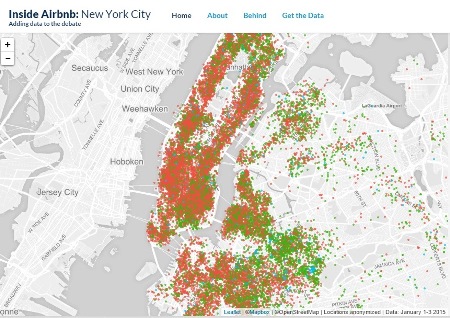 The airbnb locations on the New York city map of Insideairbnb.com.

Large scale, small place
In Amsterdam there are over 10,500 Airbnb addresses. As Airbnb puts it: 'Whether a flat for a night, a castle for a week, or a villa for a month, (…) Airbnb is the easiest way for people to monetize their extra space and showcase it to an audience of millions.' Why does this 'monetize your extra space' resonate so well? I think it's because housing and 'investment' thinking were already connected.
Buying a house is often presented as an 'investment' and residential renting, on the contrary, as a waste of money. Seeing a house as an investment may be a combination of justifying borrowing large sums of money (this is not a debt, but an investment) and speculating on future events: buyers assume that they will sell the house for more than they bought it for. In areas that are already tourist spots, like Amsterdam city centre, this 'investment' thinking has been put into practice in a major way. The concept of Airbnb connects perfectly with the notion of housing as an investment, with one big advantage: it pays off immediately.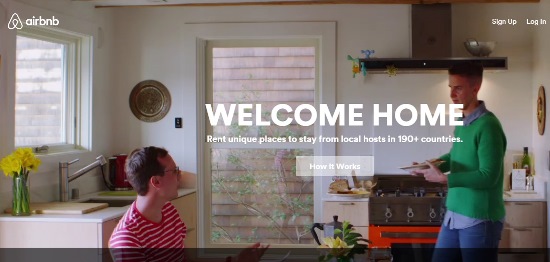 The Airbnb "Welcom home" slogan on its homepage.

The perfect neighbour
My research among people who had recently bought a house showed that the neighbourhood where an apartment was located was of particular importance in determining whether or not people wanted to live there. As one person I interviewed put it: 'I also wanted to know who lived in the neighbourhood. Who are my neighbours, who lives next door? Are they students? Are they starters or families? Of course I wanted to live next to people like me, starters. I definitely did not want to live next to students. Then you've bought a nice house, but you're still woken up at all hours because they come home late. I really have been here many times at all different times of day to see what kind of people live in this street. I also rang the neighbours' doorbell to ask them about the area. They didn't mind and found it normal to answer my questions'.
This interview took place two years ago and, given the scale Airbnb is reaching, I now wonder whether this person would also include his neighbours' renting out holiday accommodation via Airbnb as a matter for consideration. What this quote shows is that the intimacy of a home goes further than just the space within your own four walls. As the Dutch expression goes 'A good neighbour is worth more than a distant friend'. If your neighbours are never the same from one week to the next, short-stay rentals on the scale we see today seriously challenge the concept of a 'neighbourhood'.
Close to home
The ideology of Airbnb resonates well in Amsterdam, while at the same time the neighbourhood where we live in is in many cases an intimate choice. We should ask ourselves whether the moment has come to question this investment ideology, not only because Airbnb provides a platform for unlicensed, unregulated, and untaxed hotels, but because our neighbourhood is an intimate place where people live.
It certainly has the makings of a good debate, and for the time being my mother will go on having a new neighbour every week.