Little Free Libraries: Anthropology on the Front Lawn
For used books fans there is a new communal book exchange: the Little Free Library. What are we, as anthropologists, to make of this back yard libraries in the context of social movements and the sharing economy?
When I was a student, I always bought used books. My main sources were brick-and-mortar book stores, such as De Slegte (remember, they were acquired by a big chain, went bankrupt, and are now back in Leiden), or fellow students, who had probably bought their books secondhand as well. And a few years into my undergrad career, I started relying more on on-line websites. Yet, last year, I found a new, unexpected source of used books right in my own back yard—or more accurately, in my neighbor's front yard; a "Little Free Library" popped up, right on the front lawn.
"Take A Book, Leave A Book"
Little Free Libraries are exactly what the name suggests: they are, first of all, small: about a meter wide, no more than a book shelf deep, and only one or two shelves high. Second, they operate on the principle of a library, meaning you can borrow books from them to return at a later date; third, they are free, so anyone can borrow books. The idea—which is often spelled out on the library's sign —is that any passerby can "take a book, leave a book."
It doesn't say that the "taking" and "leaving" of a book need to occur at the same time, so you can borrow a book now and return it later, or return a different book. Personally, I tend to use the Little Free Library at my neighbor's as a book exchange, leaving old books (i.e. that I've finished reading) to find new homes with passers-by, in exchange for a book that is new to me.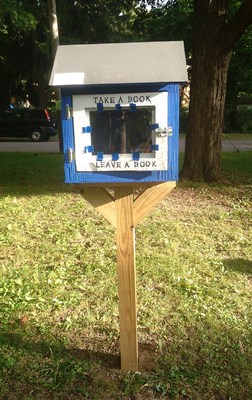 Little Free Libraries Everywhere
Soon after I encountered my first Little Free Library on my neighbor's front lawn, I found two others in the Dutch town where I live. In the summer, I temporarily moved back to a university town in the United States… and immediately ran into a Little Free Library there too. Over the course of a few short weeks, I found twelve others, including one inside an actual library.
When I was exchanging books at one of them, a woman came up to me and explained that her sister had been the caretaker of this particular Little Free Library. The sister had enjoyed interacting with the kids who had come to get books, or even just seeing them through her window in the final months of her illness. Now, after the sister's passing, the remaining siblings took comfort in the fact that the library, which had brought their sister such joy, lived on in the neighborhood.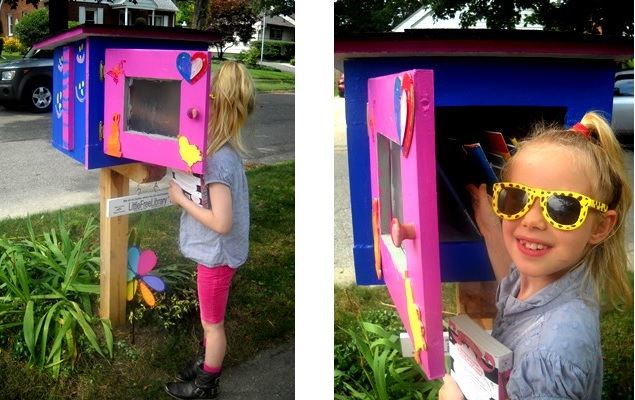 The 'Sharing Economy'?
What are we, as anthropologists, to make of these Little Free Libraries? They certainly seem to fit in well with the broader phenomenon of the "sharing economy," which rather imprecisely refers to all manner of ways in which people bypass existing companies and institutional channels to exchange goods and services. Anthropologists—including some who have written on this blog—have been critical of the enthusiasm with which this trend has been hailed, pointing out that "sharing" is a misnomer for many of the forms of exchange that go on under the banner of the new "sharing economy." Buying and selling is often a more accurate description of the actual practices people engage in, and the bypassing of "vested interests" also means circumventing hard-won safety and labor laws.
It seems unlikely that the libraries threaten the existence of official used book stores. Nor can it easily be argued that the book exchange happening through Little Free Libraries is a disguised form of market exchange – although you can buy a prefabricated Little Free Library if you don't want to make your own. In fact, the libraries are much more "peer to peer" than most so-called "sharing" initiatives, because they don't use an intermediary platform (as is the case for Airbnb, Uber, and other examples). Instead of connecting people digitally, Little Free Libraries are physical repositories that serve as resources for people in their more or less immediate vicinity.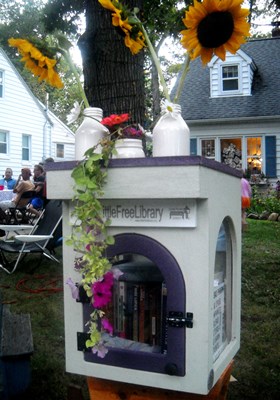 Critical Questions
The limited geographical expanse of the Little Free Library would seem a clear limitation in the attempt to conceive of the phenomenon as a social movement that aims to "bring books to every-body," "create community", and have the libraries "function as neighborhood town squares" as the American based non-profit organisation Little Free Library promotes its goals. You have to be there to benefit from the libraries. So far, the Little Free Libraries I've encountered have been in places where there are (safe) sidewalks and a neighborhood population that is highly educated, or at least largely literate.
The description by no means fits most neighborhoods worldwide. Nice as it is to have a Little Free Library in my neighbor's front garden (and that is very nice), I can't help wondering if it's only in comfortable neighborhoods like mine that these libraries are so abundant. Though there is no reason that Little Free Libraries shouldn't thrive in all kinds of neighborhoods, I would love to have more exact data on the existence and density of libraries in different neighborhoods.
In fact, this would be a great research project. Anthropologists know that efforts to build community frequently end up excluding as many people as they include, so it is worth asking who has access to a Little Free Library and who doesn't. Who is served by these libraries and who isn't? Likewise, it might be illuminating to track and compare the collections of books over time at a number of different libraries, or to observe the ways people use the libraries and interact with other users or passers-by. Who reads what, and how does this reading broaden or narrow people's viewpoints?
TheTransformative Power of Reading
In the absence of research data, my highly unscientific take is that the libraries constitute a small-scale and probably mostly middle-class phenomenon. Unlike, say, Black Lives Matter, the movement seems unlikely to alleviate great social ills such as economic inequality and racism that exist in the US or elsewhere. I'm not sure that they enable us to see these problems if we aren't already positioned to do so.
Still, I fully agree that books can be powerful factors for change, and a main reason that I—like my fellow Anthro blogger—love reading, is that it widens my imagination to include perspectives and viewpoints that are far removed from my own lived experiences. In that sense, sharing books with one another does seem a promising approach. Similar premises underlie other library-based movements, such as the recent initiative to bring books about feminism to people by means of mobile "libraries on wheels." Here, it's the content of the library that's particularly important. Older programs, too, are premised on the transformative power of reading, books, and libraries, such as the program that brings books to African (mobile) libraries or the one that supplies low-income kids with new books.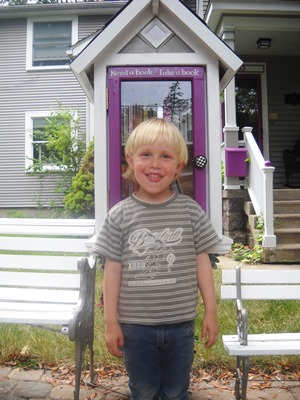 Please let me know in the comments if you know of any Little Free Libraries or similar projects in the Netherlands, or elsewhere. I would love to check them out if I can!