Liberating visual methods
New adventures have appeared in the field of Anthropology. 'Liberating!' students say. Social theory and fieldwork combine in new ways, thanks to contemporary audiovisual practices. A glimpse into a few experiences.
Free to walk but…
May 31st was a festive day for the Leiden BA students in the Visual Methods course (10 ECTs). For the first time they did not show a video and written report of their fieldwork. This time the findings, including a video, had to be embedded in a website environment.
This experiment was meant as an exercise in thinking about routings through collected audiovisual material, the challenge being: what to tell in which medium and in which order? How to guide people through the many and varied findings?
The 'data' to work with consisted of fieldwork experiences, knowledge through observation in combination with theory, as well as feedback interviews, photo elicitation and video recordings. Before letting the students cut their own project-related path through the audiovisual jungle, PhD candidate Lea Zuyderhoudt showed them some media survival techniques she learned from working with the Blackfoot people in Canada. If you're in a hurry go straight to minute 9 -24; slides 14-26 of her presentation.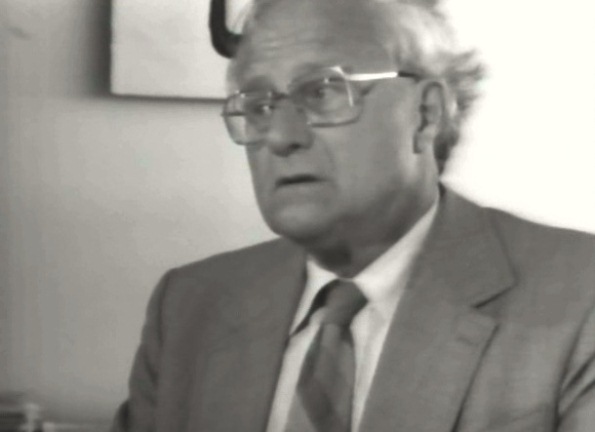 Lea found several solutions for the problem of publishing in hybrid multimedia, through applying museum practices. This will certainly make the founding father of Visual Ethnography in Leiden, the late Prof. Dr. A. A. Gerbrands, smile on his cloud. In his days Visual and Museum Anthropology were one. Interestingly enough we now seem to move that way again.
Innovative invaders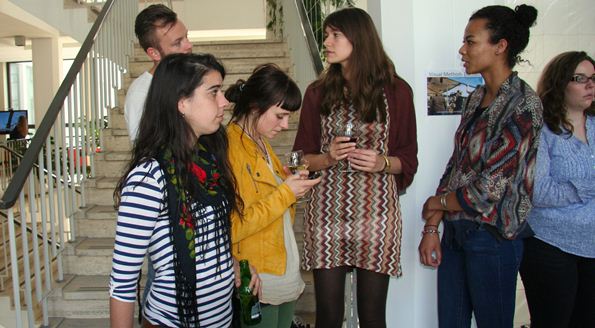 The title chosen by Tanya Sauli and Kim Buisman for their 'Innovative Invaders' project, on foreign students, could be applied to the new generation of students coming to Leiden as well. Give them a challenge and they will start innovating.
Kim and Tanya explored the possibilities of interaction. Their dream is a pan-European platform: ideally, people upload their own stories and start a dialogue. Their take on migration is through the eyes of newcomers who survive by inventing new business opportunities. So far Horia has been their only case; see for yourself how a young Romanian gets by in The Netherlands and what extra 'data' the video provides over written sources.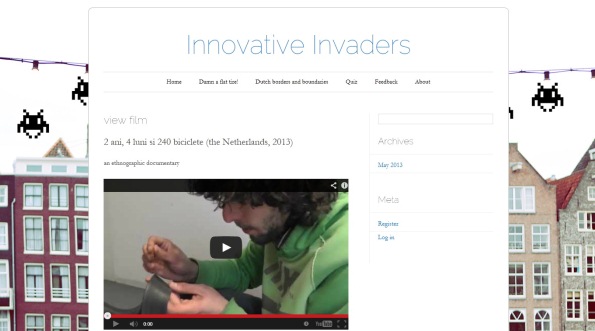 The Innovative Invaders site contains an example of theory merging with fieldwork. Through the video we share experiences and get to see real people. Off-the-cuff interactions and non-verbal uneasiness could never be captured in any other way than through participant observation with a camera.
Once back behind the desk these observations need contextualising. Here the case of Horia is put into a theoretical context; in fact, social theory is applied directely to the young Romanian. Under various other tabs you get a look into more political and policy contexts. This you could of course do in a book, too, but I haven't come across one that includes a quiz. New and social media offer new and accessible opportunities to bring scholarly knowledge to the public domain.
Participating
Through audiovisual means the linkages between data and theory can become more transparent, since fieldwork moments can be shared. This is not new, because that has often been the major reason for anthropologists to take cameras and audio devices into the field. In the early days, however, 'reality' got 'captured' and people 'observed' because it was the paradigm of positivism that reigned.
Today subjectivity, reflexivity, collaboration and multi-vocality are in vogue. Those scholars who dare to work with audiovisual and ICT options now have an even bigger toolkit at hand that opens up endless possibilities, many of which have so far remained underused. One of my favourite examples is Roots2Share.
Here new media help to bridge borders, waters, generations and knowledge gaps. A project like Roots2Share does require a lot of resources, though. Let us look at one more small student project in which everything is done within seven weeks, in this case by Daniel Uosukainen and Maarten Vreeburg. Neither of the young men had any prior experience with any of the techniques used.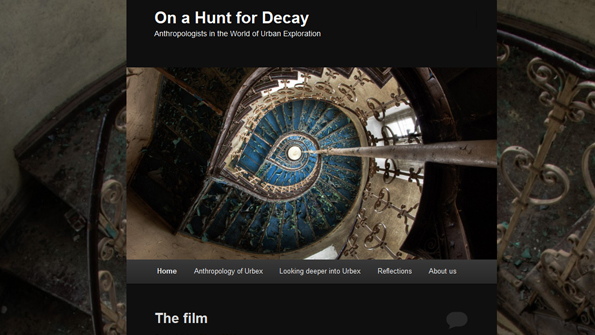 Going Native
As visitors to the site we are immediately led to the film. The rest is to be discovered later. Daniel and Maarten want us to participate in their filmed experience first, and their film style has been chosen accordingly. 'Adventure' is one of the main aims for the participants, and we get to feel it ourselves by watching the video. Just imagine how boring it would be if you could only read about this trip and this lifestyle.
Now, thanks to affordable video methods and some persistent fieldworkers-with-a-camera, we have the opportunity to participate in the action - and at leisure . Only Daan and Maarten had to go 'native', with little sleep, lots of driving, danger and potential police trouble.
Any regular documentary maker could have done the same. But then we would have missed out on the contextualisation provided by the texts on the site. In principle this project could be suitable for a self-contained multimedia publication; it does not need interaction with the outside world in order to grow in importance, as 'Innovative Invaders' does.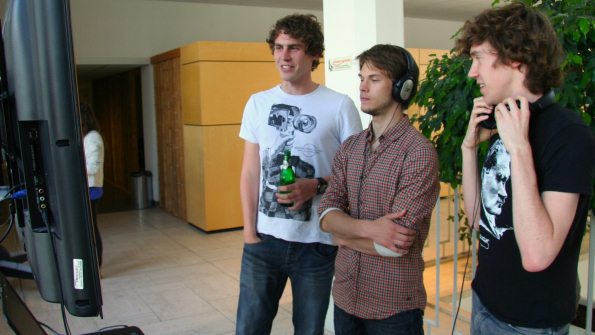 However, direct links to the sites of the Urban Explorers themselves do offer valuable extra insights. You're only one click away. And in a way the web is their community; it is the place to share the photographs they hunted down.
Today the interactions by so many people between on-line and off-line living make visual methods nearly indispensable for any anthropologist. Our venture into liberating the existing visual methods into a broader arena has turned out to be successful. My bet is that we'll have another Visual Methods DocLab in 2014.
Many thanks to all participating students, assistants and lecturers.