Intercultural love in Lovina
Masterstudent Cecile Schimmel is doing fieldwork in Indonesia. Her research is on intercultural love relationships, her location Lovina Beach, northern Bali. She applies Visual Ethnography as a method. A report from the field by a visiting lecturer.
Master fieldwork
Because Cecile had familiarised herself with the Indonesian language and culture before, she could pull off a relatively short two-month MA fieldwork period out there. She chose a location that she already knew quite well and also took her guitar along this time. When you visit Cecile, as I did, you'll notice that she hums a lot and that music is never far away.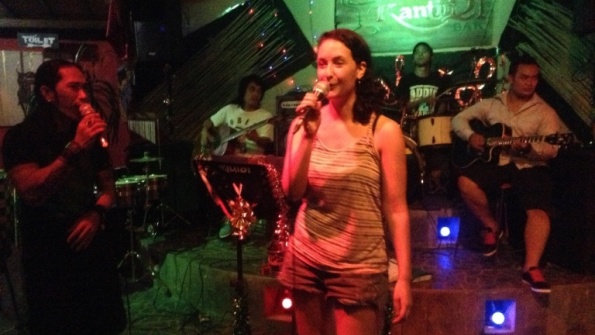 Participant observation with a guitar?
Singing songs on the beach, she draws a regular audience. Her biggest fans are young children who invite her into their houses to brighten up their birthday parties, for instance. When it rains, they in turn teach Sisi, Cecile's local name, their favourite songs in the local Balinese language. 'Participant observation with a guitar?' I wondered. Not really, as the families she got to know this way are not part of her current research at all. It just goes to show how well Cecile, or Sisi, fits in with that environment. However, the guitar does play a role: 'When I want my respondents to forget I'm around, I'll go sit with their staff to learn new songs; then the house owners carry on with their own business.' Which then allows Cecile to observe daily routines without too much bias being introduced by her presence.
Translating love
It is not only inside that research is being carried out. At sunset local expats, many of whom Dutch men, come together for drinks near the beach. They often have love relationships with Indonesian women. Their language skills are often insufficient, and Cecile gets asked regularly to translate for them. This is another way of participating in Lovina life and getting close to the real-life stories or 'data' to collect. The following video offers a glimpse of Sisi and the kind of rapport she has acquired: a contemporary anthropologist in the field… Translation of spoken text follows underneath. The song she sings is in Balinese!
'Mother' Sue
The woman on the phone is adoptive mother Sue, checking why my visit to Sisi takes so long. Is everything alright, really? Sue was the first person I got introduced to. I had to be checked out, and in the meantime I was happy to find that Cecile had someone she could talk to outside her research. To let off steam, if necessary, and someone that would look after her in case she felt bad or became ill. Thank you for taking such good care, Sue!
Intercultural weddings
Near the dolphin statue – Lovina's well known landmark - we bump into two women. They chat about a temple for tourists in the village where one of the women lives, yet Sisi rarely has time for touring. She has work to do. When my filming stops, Cecile is admiring earrings. It turns out the woman got them from a German guy. She wants to move to Germany… another story that would fit Cecile's research.
But Cecile already knows enough Indonesian women with foreign partners, like the Dutch men in the videoclip. Most of the year they live near Lovina and deal with migration rules and regulations – and intercultural weddings.
Visual Ethnography as a Method
The reason why I was taking some time at Cecile's place when Sue phoned, is that we were looking at some of her video recordings on the laptop and checking out sound issues. Cecile is following the Visual Ethnography methodological option for her MA, and took video equipment with her into the field. For her current investigation she believes that the non-verbal component is very telling. I noted a few remarks from Cecile, which will probably turn out not to be the whole story, and probably biased by what I read into them from my point of view as lecturer :
'How couples interact is important. You can see cultural differences so well. For instance, using a table for dinner, or not. In some households you see two different lifestyles next to each other and I want to know how intercultural couples negotiate certain choices. At what moments in daily life do cultural differences play a role in love relationships?'
Thus my recollection of some of Cecile's views. Luckily I checked this with Cecile – long live internet - and she replies from Lovina (my translation):
'In fact I believe that the video film contributes to my research findings by showing that respondents are real people with feelings, as opposed to static entities making choices purely based on straightforward rationalities. In the video I try to show them how they really are, and that gets through best during interactions. Film also shows more about human vulnerable aspects. The various backgrounds I describe mainly in text.'
Cecile's research is basically about romantic love; is it a socio-cultural construct and if so, how exactly? What tensions are there between romantic ideals and materialistic realities? How do friends and relatives respond to cultural outsiders? Do real people operate as so-called interdependent, or as independent selves?
Various theories and stereotypes are being put to the test by this etnographic research. I am curious to read and watch the answers in Cecile's film and thesis… to be continued this summer!