Anthropology in the Local Newspaper: Opportunities & Challenges
Three of last year's Leiden City Photographers reflect on practicing anthropology in their backyard and on collaborating with the local newspaper as a medium for visual ethnographies. This is the fourth contribution to our impact blog series.
In terms of measuring impact, popular media are generally considered less academically prestigious compared to peer-reviewed publications. Nevertheless, universities increasingly encourage researchers to engage with popular media in order to make the results of publicly funded research accessible to society. While this offers a range of public outreach possibilities for anthropologists, it also raises a number of questions: How do we share anthropological knowledge in popular media? How may we balance our anthropological urge for complexity and nuance with the simple and attractive messages appropriate for reaching a broad audience? In this blog we reflect on these questions based on our experiences as Leiden City Photographers.

About the project

From September 2018 until September 2019, seven young anthropologists affiliated with Leiden University took up the role of Leiden City Photographers. In collaboration with the local newspaper Leidsch Dagblad, we produced 49 photo-essays which we published weekly as a double-page spread. Every week, we shared the newspaper pages and photographs on the Leiden Stadsfotograaf Facebook and Instagram accounts. At the outset, each of us chose a theme that would connect our seven individual contributions. The themes were: community work (Simone de Boer), nightlife (Jule Forth), youth (Wilke Geurds), backstage (Christien van de Pavert), places of significance (Lina de los Rios Torres), new in Leiden (Veronie Rouschop) and care (Hanna Stalenhoef). At the end of the year, we set up two temporary exhibitions, that showed a selection of photographs.
Ongoing conversations
Leiden has had a yearly changing City Photographer since 2013. In previous years, this position has been filled by professional photographers. Working with visual anthropologists this year was therefore an exciting adventure, both for the board of the City Photographer Foundation, and for us. While the weekly assignment remained unchanged, we brought our own diversity and our anthropological approach into the project. For us, the process of gathering stories and taking photographs was at least as important
as the final newspaper publication.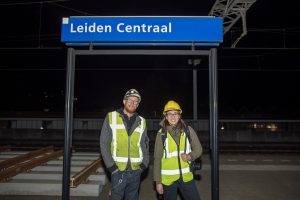 This became apparent in our approach. Every publication was the result of an intensive and transparent collaboration between the anthropologist and the participant(s). We had extensive conversations with the participants about how their stories and images were presented, both before and after publication. These conversations were central to conducting research, the selection of the images and the afterlife of the publications. We found that our participants were very engaged with the project. They could easily envision (or look up) what the end product would look like because they were familiar with this specific newspaper, and the time between the research and the publication was short. It was also not uncommon to find the newspaper at locations where we conducted our research, such as community centres, nursing homes and old fashioned coffee places ('koffiehuizen').

In Jule's case, one of her research participants messaged her each time he spotted one of her series in the newspaper. Researching, publishing and living in the same city increases the chances of encounters with participants in daily life – intended and unintended. For example, Simone still brings used clothing to 'de Wijk Ruilbus' of which she made a photo essay for the theme community work and Jule still buys flowers at Bart's shop or market stall, after making a photo essay for her nightlife theme.
Preconditions of publishing anthropology in the local newspaper
This project uniquely brought together academics, journalists, companies, organisations and citizens of Leiden and its surroundings. Using a newspaper as a medium for visual ethnography offered many advantages with regards to impact, accessibility and visibility of anthropological knowledge. Through this project, the mostly non-academic readership of Leidsch Dagblad got an easily accessible glimpse into the possibilities of anthropology.
However, due to the demands of this particular medium, the possibilities for sharing in-depth anthropological analyses were limited. The challenge for us, here, was to balance our wish for a nuanced anthropological analysis with the medium-specific need for the most visually attractive images and a tight word limit. This also influenced, consciously or unconsciously, our choice of topics. Hanna, who was working on the topic of care, for example chose bike-buddies ('Fietsmaatjes') instead of another 'informal care initiative' because of its societal relevance but also for its recognisability and photogenic character.
'Anthropology light'?
In reflection, we consider our publications in the newspaper as a sort of 'anthropology light'. While we used anthropological research methods, our publications do not reflect all the complexities of the social realities we encountered. The accessibility of the publications, on the other hand, resulted in a broader and more engaged audience.
The project opens up questions about anthropological engagements with newspapers. What other possibilities are there for anthropology in (local) newspapers? Should anthropologists focus on media that fit their analysis, or should they also consider ways to adapt their analysis to fit different kinds of media? We are looking forward to hearing your ideas and keeping this discussion going.